CDs
Canadian addresses only
IMPORTANT: IF YOU DO NOT LIVE IN CANADA, OR WISH YOUR ORDER TO BE SHIPPED TO AN ADDRESS OUTSIDE OF CANADA, PLEASE VISIT ONE OF THE FOLLOWING PAGES:
ORDERS SHIPPED TO THE USA
ORDERS SHIPPED TO OTHER COUNTRIES
If you prefer not to order on line, please follow our mail-order instructions
For Ian Robb's Folk Legacy Recordings (The Barley Grain for Me, Hang the Piper, Rose & Crown), please visit www.folk-legacy.com
Check the status of your shopping cart at any time using the "View Cart" button
Finest Kind: I Am Christmas
FAM12: 2018
CD $15
A collection of previously unrecorded favourites from Finest Kind's annual Christmas show at the Black Sheep Inn in Wakefield, QC.
Release date: early-mid December. We will ship as soon as we have delivery.

Awake, Awake
Jolly Wassail
The Christmas Canoe
Bring the New Year In
Christmas Song
I am Christmas
Reading from "A Song for Every Season"
Babes in the Wood
Auld Lang Syne


Arrowsmith:Robb Trio:
All the Salt

FAM11: 2018
CD: $20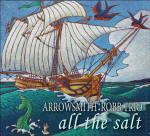 A transatlantic collaboration between UK-based Jess & Richard Arrowsmith (Melrose Quartet, Hekety) and Canadian folk music veteran Ian Robb (Finest Kind. Jiig, Friends of Fiddler's Green).
All the Salt
The Smiler
The Handloom Weaver's Lament
The January Man
On a Sunday
The New Mistress
Haste to the Wedding
The Trees They Do Grow High
The Old Red Duster
Ye Mariners All
The Mermaid and the Swallow
Bright New Year
Set de la Baie-Saint-Paul/The Old Sod
Welcome Home My Sailor
For more information go to the trio's website at www.artrio.ca or www.artrio.co.uk
Friends of Fiddler's Green:
Old Inventions

FOFG4: 2015
CD: $17.50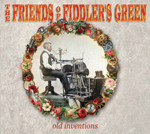 The first release by "The Friends" for over 2 decades, the first with our old friend and new "Friend", Ian Bell, and the first without the band's long time and much missed front man Tam Kearney, this is a selection of songs and tunes you might hear at any Friends concert, recorded as much as possible "off the floor" over the course of a few days in James Stephens's studio in Chelsea, Quebec. As Alistair Brown writes in the introduction:
Of the twenty songs and tunes on this recording, some are old and some are new, but all exist because someone had something important to say. If the Friends of Fiddler's Green can be described as having anything as posh as a philosophy, it probably is that they will sing any song and play any tune that they like provided the story is a good one and, "there's a good reason why".
Twelve and a Tanner a Bottle
All Around My Hat
David Parry/Laughin' in Baffin
If You Want to Change the World
The Reason Why
Waiting for Emilie/The Old Sod/Mickey Chewing Bubblegum
When the Hauling's Over
Roll the Woodpile Down
Hector the Hero/The Drops of Brandy
I'm Very Fond of Water
In My Life
Da Slockit Light/Glencoe/Swedish Jig
Doon in the Wee Room
Till We Meet Again
Finest Kind: From Shore to Shore

FAM10: 2014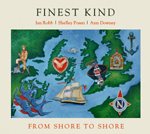 The CD of the tour that never was, this EP length recording was made for a planned Finest Kind tour in the UK in October 2014. The tour had to be cancelled at fairly short notice due to illness, so we were left with a lot of CDs in the basement. As it turned out, this was Finest Kind's swan song recording, as the trio announced their retirement from touring soon after. This recording is a limited edition: once they're gone there will be no more, so if you want to be a Finest Kind completist, order now!
The notes to this recording can be found here.
Sorry, Sold Out! Will be re-released as a download only, at a later date
Fare Thee Well, Dearest Nancy
The Well Dressing Song
Jimmy Whelan
The Birds Were Singing of You
Woman's the Joy and the Pride of the Land
Following the 'Old Oss
Finest Kind:
For Honour & for Gain

FAM09: 2010
CD: $17.50
On Finest Kind's fifth CD, Ian, Ann, and Shelley show what nearly two decades of singing together sounds like: brilliant harmonies, innovative arrangements, and immaculate performances that range over a vast expanse of repertoire--old ballads and country classics, fun parodies, songs of protest and heartbreak, and a cool, new Christmas carol. For Honour & For Gain is half a capella, half accompanied, with instrumental honours courtesy of the trio, plus Michael Ball, Jody Benjamin, Jeff McClintock, Brian Sanderson, and James Stephens.

Produced by James Stephens.
Bay of Biscay
She Thinks I Still Care
Claudy Banks
Short Life of Trouble
Thomas & Nancy
Bully in the Alley
He Comes Like Rain(Like Wind He Goes)
Song of the Lower Classes
Lowlands Low
John Barleycorn Deconstructed
Why Should I be Lonely?
Tenting on the Old Camp Ground
Christmas Trilogy
The Lass That Loved a Sailor
From Dover to Calais
The Riley Boys
Farm! Farm!
By the Green Grove
Tim Radford:
Home From Home

FAM08 2005
CD: $17.50

with Guests:
Ian Robb, Finest Kind, James Stephens, Chris Leslie, John Roberts, Jeff McClintock and Brian Sanderson.
Released in May 2005 Biography & info

Tim Radford, an English singer now living on Cape Cod, has recorded again after a period of near thirty years, his singing inactivity being due to decades of concentration on Morris dancing in the villages of Adderbury and Kirtlington, Oxfordshire.

Now back to his first love, this recording contains songs old and new with 10 accompanied and 7 unaccompanied tracks. It includes a range of material from chorus songs to ballads, mainly traditional material but with a scattering of composed songs, some written by old friends. There is a strong commitment to songs collected in the south of England, particularly from Hampshire and Dorset, a part of the country where Tim was born and raised.

Produced by James Stephens and Ian Robb

Come, Come my Friends
John Barleycorn
The Bird in the Bush
Fair Maid of Australia
Winter Man (Chris Leslie)
New Year (Jehanne Mehta)
The Month of January
Cupid's Garden
The Brokendown Gentleman
Love in June
Lymington Round & Round (Rick Keeling)
The Spotted Cow
Washing Day
George Collins
The Rolling of The Stones
Here is My Home (Si Kahn)
Ian Robb with James Stephens, Greg Brown and Ian Clark:
Jiig
FAM06 2005
CD: $17.50
Ian Robb teams up with three great players in James Stephens, Ian Clark and Greg T. Brown for a wonderfully varied selection of old and new songs and tunes. A long-awaited follow-up to his 1994 recording From Different Angels, Jiig again offers everything from great solo ballad singing to jigs reels and waltzes. Guest appearances from Grit Laskin, Ben Grossman, Philip Murphy and Finest Kind's Ann Downey and Shelley Posen.

Produced by James Stephens
2005 Canadian Folk Music Award
: Awarded Best Singer - Traditional, and nominated for Best Album - Traditional
Chicken on a Raft
Missing the F in C, Shindigo Jig, The End of Winter.
The Oggie Man
I Should Like to be a Policeman
The Rambling Sailor
Fen's Bedtime, The Conundrum
The Rose in June
The Female Rambling Sailor
The Gallant Frigate Amphitrite
Angeline the Baker, Abe's Retreat
Sweet Thames Flow Softly
The Bonny Black Hare
The Rose of Allandale, Swannanoa
Finest Kind with John D. Huston:
Feasts & Spirits
FAM07: 2004
CD: $15
In an attempt to reduce packaging and postage weight, this title is now packaged in a simple cardboard sleeve with no booklet, at a reduced price. Sleeve notes can be found here
.


The rich and sparkling vocal harmonies of Finest Kind are a natural setting for Christmas carols and wassails. Add some classic excerpts from Charles Dickens's A Christmas Carol, masterfully delivered by Mr. Dickens himself, and you have all the ingredients of a spirit-raising feast for the ears. Canadian actor John D. Huston is known for his acclaimed one man show Charles Dickens Reads A Christmas Carol.
Produced by James Stephens.
Shepherds Arise
A Tight-Fisted Hand at the Grindstone


Horsham Tipteerers' Song


The Face in the Knocker


Gower Wassail




Party at Fezziwig's


The Holly and the Ivy
The Cratchit's Christmas Dinner
While Shepherds Watched Their Flocks by Night
The Two Children–Ignorance and Want
The Homeless Wassail
Grieving for Tiny Tim
The Cradle Carol
Christmas Morning
O Little Town of Bethlehem
The End of It
Please to See the King
Oh Beautiful Star of Bethlehem
Finest Kind:
Silks & Spices

FAM05 2003
CD: $17.50
In the trio's own words:

Finest Kind's repertoire has so many sources, our musical closet so many skeletons, and our performances so many opposing elements, there's no neat summing us up. "Folk music" serves as a point of departure, but in our case obscures as much as it explains.
The best we've come up with is a slogan, "Old Songs in Close Harmony." But it too only partially covers the ground. Take the word "old:" on Silks & Spices there's blackletter-broadside old, Napoleonic-days-of-sail old, Victorian Christmas and golden-age-of-country-music old, Ottawa-Valley-logging and early-American-sheet-music old, antiwar-protest, civil-rights, and bellbottom-pants old—plus one song with a tune as old as Canada but words written 136 years later.
As for "close harmony," well, we're often told that Finest Kind sounds like no one else, but in our arrangements we hear the harmonic strains of the Copper Family and Young Tradition, barbershop quartet and Sacred Harp, doo wop and country brother duos, and many more. How can we bundle that up in a nice neat phrase?
So we decided Silks & Spices was an apt title for this CD. Finest Kind is not one thing or another, but some of each and every. Once you hear us, you understand what we do.

Produced by James Stephens, who also adds his instrumental magic to the CD.

Bright Shining Morning
Fair Maid Walking
At the End of a Long Lonely Day
The Ten Dollar Bill
The Maple Leaf Forever
As I Roved Out
Jack the Jolly Tar
Shepherd of the Downs
John Barleycorn
Sweet Forget-Me-Not
Shepherds Arise
Blackest Crow
The Painful Plough
The Times They Are a-Changin'
Will You Still Love Me Tomorrow?

The Old Sod Band:
Grass Roots

FAM04 2001
This CD is out of stock, but is available as a Virtual CD download for $12, from our Downloads page



'Grass Roots' is the first release by 'The Old Sod Band', the long time house band at Ottawa Contra Dances. This recording covers a range of musical roots from Quebec to Ireland, the U.S. and Scotland. Although primarily traditional, the recording features some favorite original jigs, reels and waltzes from around the globe. Fiddler Dan Schryer and concertina player Ian Robb are joined by Ann Downey (bass, banjo, percussion), Ian Clark (guitar), Philip Murphy (guitar, mandolin) and Tim Cutts (mandolin, mandola, tenor banjo, nyckelharpa). A note for dancers- some sets are long enough to be used at your bandless dances! Guest appearances include Denis Lanctot, Don Kavanagh, Raj Mudhar and James Stephens. Produced by James Stephens.
Julia Delaney/Tam Lin/The Banshee
Miss Sarah McFadyen/Princess Nancy/Hills of Sharon
Far Away/Old Madera
Vingt Quatre Juin/Reel de Fauberg/Pointe au Pic
Margaret Brown's Favourite/Ben Keily's Delight/Pay the Reckoning
Johsefins Dopvals
Trip to Durrow/Paddy Ryan's Dream/Sheila Coyles
Sonny Brogan's/Brian O'Lynn/Blue Jay
Over Land and Sea/Reel Beatrice
Finest Kind:
Heart's Delight
FAM03: 1999
CD: $17.50
Following in the footsteps of Lost in Song, Finest Kind's second release demonstrates once again why they are considered among the most exciting exponents of vocal harmony on the scene. Like the first recording, this one is crammed with a rich and varied mixture of mostly old songs from Canada, England and the U.S., plus a few more recently penned gems including a couple written by band members Shelley Posen and Ian Robb. Includes guest appearances by Ian Clark, Ken Harper and James Stephens.
Produced by James Stephens.
A Sailor's Life
Fond Affection
The Fugitive's Lament
Jordan
Jack Ashton
If You Can't Get Five, Take Two
Brigg Fair
Someday You'll Call My Name
April Morning
In Praise of Alcohol
Down at the End of Memory's Lane
Homeless Wassail
The Mermaid
Squid Jiggin' Ground
Home in Pasadena
No More Fish, No Fishermen
Who Will Sing for Me
The Friends of Fiddler's Green:
This Side of The Ocean

FOFG3 1997
CD: $17.50
CD re-release of the Friends' first vinyl album, produced by Ken Whiteley. Enriched with a bunch of live tracks recorded in the intervening years. Great songs, tunes and stories, from a band which refuses to take itself seriously. Vintage FOFG, matured (huh?) in the barrel, challenging to the palate, a big nose and nice legs. Has been known to make grown men cry.
Oats and Beans
Polkas: Salmon Tails Up the Water/Harper's Frolic/
Kelty Clippie
Down in the Coalmine
The Golden Vanity
Come Me Little Son
The Shetland Fiddler/High Road to Linton
The Oily Rig
Hornpipes: The Black Swan/The High Level Bridge
The Works Outing
Torn A' Ma Goon/Captain Ross
Kiss Me Goodnight, Sergeant-Major/Bless 'Em All
The Hole in the Wall/Once I Loved a Maiden Fair
The Hell-For-Leather Polkas
Freedom Come All Yes
Over the Gate
Arky's Toast
Malpas Wassail
Miss McLeod of Raasay/The Mason's Apron
The Dogs
Finest Kind:
Lost in a Song

FAM02: 1996
CD: $17.50
Finest Kind's debut CD and cassette release from Ian Robb, Shelley Posen and Ann Downey. Lost in a Song is a collection of old and new songs from Britain, Canada and the US, all delivered with Finest Kind's trademark hair-raising vocal harmonies. The songs are about half-and-half capella and accompanied, and the latter feature some very tasteful fiddle and mandolin back-up from producer James Stephens, in addition to the trio's own guitar, bass, banjo and concertina.
The Banks of Sweet Primroses
Give me Just a Little More Time
The Miner's Dream of Home
Blue Mountain
The Sussex Drinking Song
The Night Pat Murphy Died
The Storms May Roll the Ocean
Goodnight-Loving Trail
Only Remembered
Fa-Sol-La
Going to the West
A Handful of Maple Leaves
Gower Wassail
What Was I Supposed to Do
I Heard the Bluebird Sing
The Faded Roses of December
A Pilgrim's Way
Ian Robb:
From Different Angels

FAM01 1994
With: Finest Kind, The Old Sod Band, Friends of Fiddlers Green, Garnet Rogers, Chris Whiteley. Produced by Ken Whiteley. Grand vocal harmonies from Finest Kind and fine musicianship. A tribute to the late Peter Bellamy, Ewan MacColl and Stan Rogers.
The Santa Fe Trail
Farmer's Boy
The Moving Cloud / Miss Thornton / Skepper Schotish
The Big Hewer
Make and Break Harbour
Ye Mariners All
Garnet's Home-Made Beer
The Last Minute Waltz / Midnight on the Water
A-Roving on a Winter-s Night
Green Groves
Charlie Hunter / McGuire's / Cape Breton Dream
The Lag's Song
D-Day Dodgers
They're Taking it Away
Cattle in the Cane / Vladimir's Steamboat
The Mary Ellen Carter